Plane of Health and Crypt of Decay
As of December 13, 2015, Inverse Logic has defeated the second tier of raids in EverQuest's recently released expansion, The Broken Mirror. I would best describe the four raids that comprise the middle tier of this expansion's raid progression as "short and sweet." Unlike in Tier 1, there were no raid victories delayed by broken event mechanics.
There were a few notable bonuses that came along with this second tier of progression raids. First of all, doubling the amount of currency acquired per raid event defeated (compared to Tier 1) was a very welcome addition, especially given the costs of the raid items available from vendors. Not to be forgotten are the backflagging items contained within the loot chests at the end of each raid in this tier. As a raid leader I just want to say "Thank you" for the inclusion of those.
With the holidays fast approaching we plan to continue farming the content available to us in The Broken Mirror while we key up for the expansion's final tier and (hopefully) most challenging raid events. Look for a Demiplane of Decay video to be released right around Christmas time and we'd like to wish everyone in (and outside of) Norrath a very Happy Holiday season!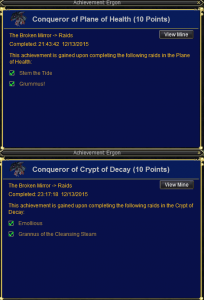 (Note: I forgot to have everyone line up for a formal photo. I'll make sure not to forget again in the next tier!)