Sticking to our Principals
Upon collecting 4 Arx Citadel keys on enough raiders, we moved on to tackle raid events 2, 3, and 4 in The Darkened Sea. We've defeated Principals Numicia, Nomia, and Lucia and begun collecting Apitarx keys to unlock the 5th and final progression raid event of this expansion. I personally feel that the tuning on these three events is right in line with what it should be (challenging enough that raiders won't achieve their first victory while asleep, but not too hard that only a handful of guilds will ever defeat them). There are also some bugs present in some of these events that will hopefully be taken care of sooner rather than later.
We'll continue to farm these events until we have enough keys to take a raid force to event 5.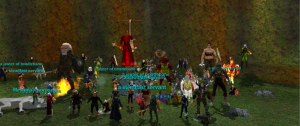 The Darkened Sea – Principal Indagatrix Lucia